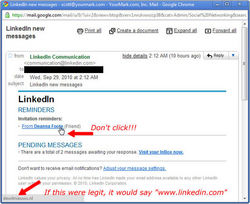 I have been receiving numerous emails this morning that appear to be coming from Linkedin. These emails look official and are telling me I have pending invitations & messages in my Linkedin Inbox. I thought the notification email looked a little suspicious, so I checked the links before clicking anything, and indeed the links do not go to linkedin.com. After some research, I found out these emails are part of Zeus, which is fast spreading malware.
So where do the links go, and what is going to happen if I click one?
WARNING: Linkedin spam attack could steal your passwords
QUESTION: I know I am going against common practice, but right now I struggle to "follow" hundreds of people back on Facebook and Twitter. For me, it's all about relationships, and when I have too many people in the feed or flow, I start missing important stuff. So ... I force myself to limit how many people I "follow" on Twitter or "friend" on Facebook at the personal page level. Am I wrong or right?
This question was originally asked by Gil Gerretsen on LinkedIn. You can find that full conversation here.
MY ANSWER: I would say Twitter can be used in many ways, depending on what you want to get out of it. I don't think you're wrong to only follow a select few that you want to build a relationship with. That's definitely a great way to use Twitter.
Twitter, for me, is more of a discovery and reference engine. To start with, I NEVER look at my home feed. You're right, it's way too much information & noise if you follow a lot of people (which I do). I don't follow everyone, but I do follow everyone that follows me (unless it's an obvious spam account), and I actively seek out people to follow that are talking about things that interest me.
So what are my interests, and how do I use Twitter find relevant information?
Q&A: Is it wrong to not follow a lot of people on Twitter?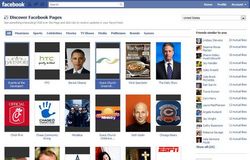 Facebook is all about connecting you with friends & family, and once you have connected with 10-20 friends, Facebook will begin to suggest friends. This feature has been one of the big reasons Facebook has exploded to 500+ million users in recent months. You no longer need to search for your friends, Facebook finds them for you, and all you need to do is approve or decline each suggestion.
A similar feature is now available to find Pages for you to "Like". Previously discovering Pages that might interest you was left to friends suggestions, your searches on Facebook, or a link from a website. Each of these methods worked fine, but none took into account your entire profile.
The new Facebook Page Browser usings the information in your profile, wall posts, comments, interests, etc... to give you a list of suggested Pages you might want to join.
So, how well did it work for me?
Facebook makes finding Pages you might "Like" easier.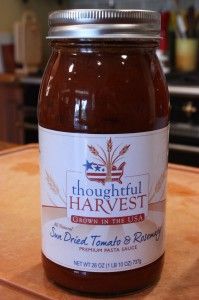 Today I was a guest host on the Thoughtful Harvest podcast with my good friend Chef Keith Snow. We discussed the upcoming line of products coming from Thoughtful Harvest and how to use social media to spread the word.
Thoughtful Harvest is the latest venture from Chef Snow, who also administers the website HarvestEating.com. The mission of Thoughtful Harvest will be to bring to market products that mix the culinary skills of Chef Snow with American grown produce. The first product, a Pasta Sauce, will be 100% American made, from the sweet Georgia onions, to the bottle it's shipped in.
Want to learn more about Thoughtful Harvest & how it uses social media?
Thoughtful Harvest Podcast w/Chef Keith Snow
If you think websites like Facebook and Twitter should be banned from your office computers, then you're NOT missing the boat. Ok, managers and bosses, before you start referencing this article as justification for what you did to your staff, continue reading.
You're not missing the boat, because you've missed the jet plane to Paris. These websites and others that make up social media are your first class ticket to effective, trackable, viral and yes, relatively inexpensive marketing. Let's break this down Q&A style:
Social Media - Don't ban Facebook & Twitter from the office!
I'm constantly asked what the next big thing will be for tech, web & social media. It's hard to say who the next Facebook or Twitter will be, but I can say the next emerging social craze is location based technologies.
So what does that mean?
As more and more phones become internet and gps enabled, people have the ability to report exactly where they are. Who would want to do that? More people than you might think. If done right these new phone features, couple with our desire to broadcast where we're at, can have some very neat business applications.
In general location based websites/apps let you add places you frequent often, then you can "check-in" at these locations each time you visit. Some sites will give you points as you check-in at more locations, while other sites let you keep a detailed log of where you've been.
One site even makes a game out of checking in to places. If you check-in at a certain place the most, you can become the "mayor" of that location. Being a "mayor" gives you some more points (who cares, right?), but some business are getting smart by offering specials to their virtual mayor. For instance, a bar or restaurant may give their mayor free drinks.
Why would they do that?
The next big social networking thing?
Many people stress over a picture to use as their avatar on sites like Twitter. Often one of the following happens:
You stay with the default avatar, while waiting on that perfect picture. As a result there are way too many colored bird icons on twitter. This screams newbie.

You take some quick shot with their cellphone, which looks like...well it looks like a quick shot from a cellphone.


You upload a fullsize photo, which makes it pretty hard to tell who you are.
There is a quick and relatively painless solution to finding a decent headshot. Install Picasa (Google's photo software) from www.google.com/picasa. The latest version (3.6) includes face recognition, and it is remarkably accurate.
I setup Picasa on my PC, and it immediately began adding all the photos in the My Pictures folder. Once all the photos had been added, Picasa starts scanning your pictures for faces, grouping the faces that it believes are the same person. It will then display headshots of everyone in your photos. Next, tell Picasa which headshots are you. You'll only need to do it for 5 or 6 photos, then it can recognize you. Yes, that may seem a little scary, but hey, the FBI has been doing it for years.
Use Picasa to find your avatar / headshot for Twitter, etc...