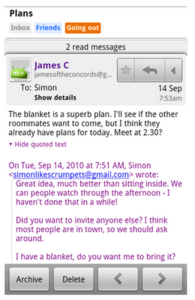 You would think the Gmail app on an Android phone would have all the advantages, especially since both were created by Google. In most cases this is true, however when it comes to upgrading the Gmail app, you could only do this by upgrading the entire Android OS version. Upgrading your phone OS is not permitted by most phone carriers (voids the warranty), and isn't something a non-geek/nerd/techie should ever try.
So here's the good news...
Gmail is now a stand alone app and can be upgraded like all the other cool apps on your phone. This is very good thing, because now you won't need to upgrade your entire phone to get the latest & greatest email app. There are some neat features in the new Gmail app, such as, easier touch controls, priority inbox & conversation scolling.
Bad news...you will need a phone that currently has Android 2.2 (Froyo) installed. Odds are unless you have a phone that is only a couple months old, you don't have Android 2.2. Fortunately many phone carriers are making 2.2 available as a free upgrade in the near future. Of course, you could always ask your nerd/geek/techie friend to upgrade your phone for you :-)
If you have Android 2.2, just go to the Android Market on your phone, do a search for "Gmail" and install. You won't lose any of your settings during the install.