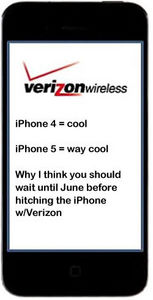 Almost everyone in the US has heard that the iPhone is now available on Verizon (or at least it will be in February). So, should you be one of the first people in line to get it?
My short answer is NO.
Don't get me wrong, I think the iPhone is great phone, and Verizon is a great cell phone network, but you've waited this long for the Verizon iPhone, why not wait a little longer for something that's going to be much, much better.
Here's why I would wait:
iPhone 5 is coming in 4-5 months: Everyone knows it's coming, and is going to be even cooler than the iPhone 4. It will have a better camera, software, hardware, and a super antenna (better reception). Also, it will most likely be on Verizon's new LTE network. More on that below.
The iPhone 4 will only work with Verizon's CDMA network: Not sure what that means? The CDMA network works great everywhere, but...


You can not be on a call and be using the data connection on the phone at the same time. For some people this isn't a big deal, but it's a deal breaker for me. For instance...

if I'm talking to my wife, and need to pull up Google Maps on my phone to give her directions...no problem on a GSM phone (T-mobile, AT&T), but not possible on any verizon phone.
if I'm using the wifi hotspot app (which is an awesome feature of the Verizon iPhone) to get my laptop online while in remote location (client's office, coffee shop, etc...), then I need to make a call, what happens? The wifi doesn't work while you're on the call. Again, for me, I do both calls & data very often, so to lose that ability would be not worth it.

Back to the iPhone 5...as I mentioned above, it will work on Verizon's new LTE network AND most likely Verizon's current CDMA network. This is very good because you'll get the wide coverage of their existing CDMA network, but in areas where the LTE network is in place, you will get smoking fast data, and can even make calls while using that data. Also, the iPhone 5 will be compatiable with networks around the world, which is important if you travel outside the US a lot. The Verizon iPhone 4 will pretty much be a brick once go international.

Cost: Let's assume you really don't care about the upcoming iPhone 5 with all it's great features, nor do you care about talking & being online at the same time. I would still recommend waiting for the iPhone 5 to come out if you want to save a little money. Odds are the Verizon (and AT&T) iPhone 4's will drop in price by 50% or more once iPhone 5 is here.
Other UNBELIEVEABLE phones on Verizon: Don't by the iPhone 4 (or 5) until you look at everything Verizon has to offer. Verizon has traditionally been the company with the great network, but mediocre phones. Not any more. In addition to the iPhone, Verizon announced some amazing Android, Windows Phone 7, and other devices coming to their network this year. Honestly, with Verizon's great network and now plenty of phones to chose from, you're going to see AT&T's stock price take a dive.
The bottom line is that we've waited this long, what's another 4-5 months? If you wait, you'll have the choice of the best phones ever made, on the best network ever created. If you buy now, you'll have a phone that will quickly fall behind in technology (both hardware tech & network tech), and you'll at least have to wait 18-24 months before you can upgrade.
The only way I would get the iPhone 4 on Verizon is if they are giving them away, which they aren't (yet), so I'm going to be patient. June isn't that far off.