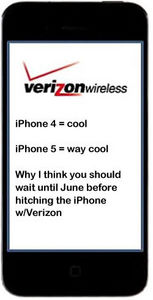 Almost everyone in the US has heard that the iPhone is now available on Verizon (or at least it will be in February). So, should you be one of the first people in line to get it?
My short answer is NO.
Don't get me wrong, I think the iPhone is great phone, and Verizon is a great cell phone network, but you've waited this long for the Verizon iPhone, why not wait a little longer for something that's going to be much, much better.
Here's why I would wait...
Why you should NOT get in line to buy the new Verizon iPhone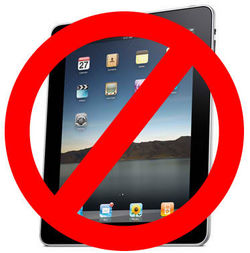 I have a netbook (HP Mini), so I haven't been dying for a tablet like the iPad. Ok, I'm lying. It has been tempting from time to time, especially when my clients would ask me help them setup email or some other app on their iPad. The iPad is an impressive device, and even though I'm not an Apple guy, I have been trying to justify buying one.
I know many people are probably adding an iPad to their Christmas list, and I personally was considering it, but I don't think I am now. I'd also recommend that if you take it off your list as well.
What changed my mind?
Short answer: 1st Quarter 2011 is coming
Long answer: Click continue reading below for the full explanation.
What NOT to put on your Christmas list: iPad (or any other tablet).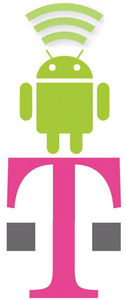 T-Mobile announced today that it will soon allow their Android phones to make calls over any wifi network. Currently this feature is only available to a few phones on the T-Mobile network (and virtually no phones on other networks).
Why is this cool?
- These calls will be FREE, and will not use any of your minutes.

- Outbound calls will use your phone's caller ID (Not available for most VOIP apps, like Google Voice)

- T-Mobile has over 8300 wifi hotspots, which many cell plans include access for free. You're not limited to T-Mobile hotspots...you can connect & make calls on ANY wifi network.

Why is this really cool?
T-Mobile to offer real calls over wifi for Android phones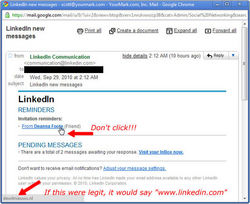 I have been receiving numerous emails this morning that appear to be coming from Linkedin. These emails look official and are telling me I have pending invitations & messages in my Linkedin Inbox. I thought the notification email looked a little suspicious, so I checked the links before clicking anything, and indeed the links do not go to linkedin.com. After some research, I found out these emails are part of Zeus, which is fast spreading malware.
So where do the links go, and what is going to happen if I click one?
WARNING: Linkedin spam attack could steal your passwords
QUESTION: I know I am going against common practice, but right now I struggle to "follow" hundreds of people back on Facebook and Twitter. For me, it's all about relationships, and when I have too many people in the feed or flow, I start missing important stuff. So ... I force myself to limit how many people I "follow" on Twitter or "friend" on Facebook at the personal page level. Am I wrong or right?
This question was originally asked by Gil Gerretsen on LinkedIn. You can find that full conversation here.
MY ANSWER: I would say Twitter can be used in many ways, depending on what you want to get out of it. I don't think you're wrong to only follow a select few that you want to build a relationship with. That's definitely a great way to use Twitter.
Twitter, for me, is more of a discovery and reference engine. To start with, I NEVER look at my home feed. You're right, it's way too much information & noise if you follow a lot of people (which I do). I don't follow everyone, but I do follow everyone that follows me (unless it's an obvious spam account), and I actively seek out people to follow that are talking about things that interest me.
So what are my interests, and how do I use Twitter find relevant information?
Q&A: Is it wrong to not follow a lot of people on Twitter?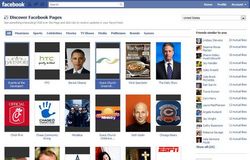 Facebook is all about connecting you with friends & family, and once you have connected with 10-20 friends, Facebook will begin to suggest friends. This feature has been one of the big reasons Facebook has exploded to 500+ million users in recent months. You no longer need to search for your friends, Facebook finds them for you, and all you need to do is approve or decline each suggestion.
A similar feature is now available to find Pages for you to "Like". Previously discovering Pages that might interest you was left to friends suggestions, your searches on Facebook, or a link from a website. Each of these methods worked fine, but none took into account your entire profile.
The new Facebook Page Browser usings the information in your profile, wall posts, comments, interests, etc... to give you a list of suggested Pages you might want to join.
So, how well did it work for me?
Facebook makes finding Pages you might "Like" easier.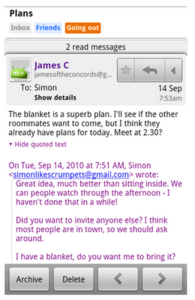 You would think the Gmail app on an Android phone would have all the advantages, especially since both were created by Google. In most cases this is true, however when it comes to upgrading the Gmail app, you could only do this by upgrading the entire Android OS version. Upgrading your phone OS is not permitted by most phone carriers (voids the warranty), and isn't something a non-geek/nerd/techie should ever try.
So here's the good news...
New stand alone Gmail App for Android Phones