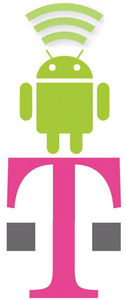 T-Mobile announced today that it will soon allow their Android phones to make calls over any wifi network. Currently this feature is only available to a few phones on the T-Mobile network (and virtually no phones on other networks).
Why is this cool?
- These calls will be FREE, and will not use any of your minutes.

- Outbound calls will use your phone's caller ID (Not available for most VOIP apps, like Google Voice)

- T-Mobile has over 8300 wifi hotspots, which many cell plans include access for free. You're not limited to T-Mobile hotspots...you can connect & make calls on ANY wifi network.

Why is this really cool?
European Vacation
Say you're on vacation in Europe and you need to make the occassional call or check your voicemail. Previously you would need to buy an international cell plan addon from your carrier, which could cost $100 or more AND would give you very limited minutes to use overseas. T-Mobile will now allow you connect to any wifi in the WORLD to make calls for free. I could easily get by in Europe for a whole month (wouldn't that be nice) if I could jump on wifi a couple times a day to make/return calls.

Work in a bunker?
Do you work in one of those buildings that blocks pretty much all the cell signal? Now you can just jump on the company wifi, and make calls like you were standing next to a cell tower.

Live in the middle of no where?
If you love living in places with an awesome mountain view, that usually means your cell reception is only going work in one corner of the guest bedroom near that window. Now you can connect to your wifi and enjoy 5 bar like reception throughout your entire home.
I'm not saying this feature is worth changing from one of the major carriers like AT&T or Verizon, but if you're already on T-Moblie, you're going to love it more. T-Mobile's network isn't the best, however they do make up for it with the coolest phones, unlimited cell plans, tethering and now wifi calling. Who knows, 2 years from now, the big carriers will follow along.